Senior Living Options in


Houston, Texas

In every stage of your journey, enjoy opportunities to maintain friendships and be served by staff members who really know and can care for you as your needs change. At our Houston, Texas senior living community, we offer a continuum of care, which means that our residents are able to age in place. Select from independent living, assisted living and memory care, in order to receive the right level of support from our expert team.

Village on the Park Steeplechase remains committed to providing our residents comfort, fulfillment and ample time spent engaged and interacting with others. Moreover, our team strives to ensure a balanced quality of life – physical, spiritual, intellectual, social and emotional – and incorporates programs, activities and events intended to satisfy each of these essentials.

Here are the individual care levels we offer at Village on the Park Steeplechase:

Independent Living
Enjoy active senior living in Houston, Texas, in a community that truly promotes your independence. Feel gratified in your personal pursuits, whether your interests involve getting social or embracing alone time. Our independent living homes at Village on the Park Steeplechase grant you the privacy you seek, supplemented by the everyday conveniences you need. You'll appreciate the features that make our apartments and cottages unique and our community's many amenities and activities. Relax, knowing our team is here to handle the hassle of home upkeep and help you with anything, should you require it.
Learn more about our option for independent living in Houston, and contact our friendly team today for more information. We'd love to chat with you and schedule your personal tour.
Assisted Living
Seek the life you want, supported by the assistance you need, at our Houston, Texas senior living community. Find high-quality care in a cozy environment, where you or your loved one will feel right at home. With staff on call 24 hours a day, trust our team to be there for you whenever necessary. We can aid you with activities of daily living, like grooming and getting dressed, so you can feel supported and ready to face the day.
Plus, at Village on the Park Steeplechase, every single day brings opportunities to have fun and be social. Look forward to events and programs during which you can get to know your neighbors and rekindle passions for old hobbies.
Learn more about our option for assisted living in Houston, and contact us today for more details. We look forward to scheduling your personal tour.

Memory Care
Village on the Park Steeplechase offers compassionate memory care services for seniors living with Alzheimer's disease, dementia and other forms of memory loss in Houston, Texas. Our community provides stimulating activities in a supportive, calming environment. We've designed our memory care neighborhood specifically around the needs of those living with memory loss. Our experienced team works with our residents and their families to genuinely understand each individual who walks through our doors. We create personalized plans, so you can feel confident in trusting your loved one to our care.
Learn more about our option for memory care in Houston, and contact us today. We'd be happy to answer your questions and give you a tour.
Home Health Resources
With support from Home Health Resources (HHR), located right here in our building, we are able to move many residents into independent living who initially thought they needed assisted living. HHR supports our independent living residents with a range of affordable home care and home health services, from 15-minute visits to full-day personal care services. Caregivers are employees (not contracted workers), with a Care Supervisor available 24 hours a day for emergencies.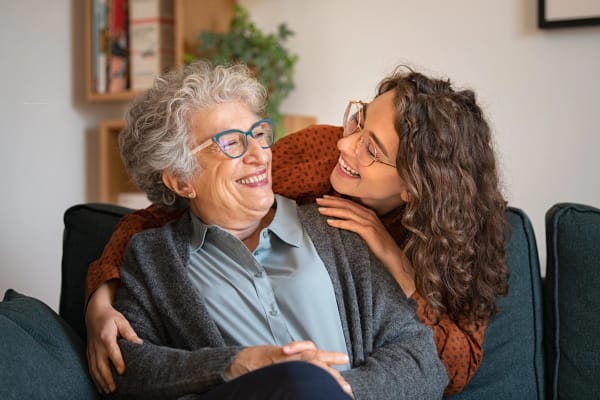 24/7 Geriatric Nurse Practitioner House Calls
Residents can also sign up for services through Collaborative Geriatrics, Inc. (CGI), to be seen by a Geriatric Nurse Practitioner who visits for house calls and is available to our staff 24/7. CGI collaborates with residents' physicians to provide a coordinated and elevated level of care. This is especially helpful since many clinics are short-staffed, often making appointments difficult to book, due to present economic conditions.